Kenwood Product Server
Dealer Subscription Site


Imagine having a website that you never need to update or maintain... Imagine all of your products updating automatically when there is a specification change or addition... Imagine never having to worry about corporate branding guidelines...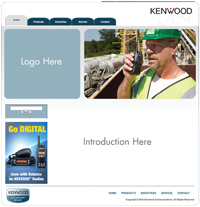 Imagine all of this and you've got the
Kenwood Dealer Subscription Website.


Whether you already own a website or need one, the Kenwood Subscription Site is an easy and professional tool that will help assist you and your customers.
Kenwood USA
Dealer Marketing store


All marketing materials included in the Kenwood Dealer Marketing Store do not require prior approval and will be eligible for 100% co-op reimbursement. Any items provided in the marketing store are Kenwood produced, adhere to Kenwood's co-op guidelines, and are created for ease of use.

As a reminder, all advertising must be entirely devoted to the promotion of Kenwood radio products that you are authorized to sell under your Kenwood Land Mobile Radio Dealer Agreement for co-op reimbursement.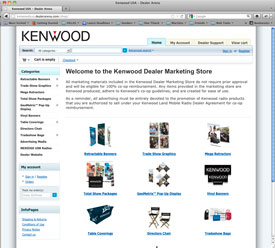 Log in through the Kenwood Dealer site.
Kenwood USA
Custom Branded
Internet
Flipbooks


Imagine having a fully dynamic Kenwood Catalog on your website with your brand and contact information. Keep YOUR customers looking at YOUR brand and contact information while browsing Kenwood's product catalogs.

Custom Branded Flipbooks can be added to your Dealer Subscription Site or to your own independent website with ease.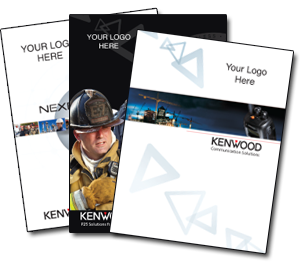 Custom Branded Flipbooks